Jacksonville Beach House Cleaning
Jacksonville Beach Maid Services
Ocean Cay | Jacksonville Beach, FL
Cleaning Services in Jacksonville FL

Free from clutter, debris, dust, and dirt – that's our definition of clean. Jessie's House & Carpet Cleaning 1.877.CLEANING knows all too well what cleaning involves and how to turn your home into a sparkling sanctuary where germs fear to tread! You've no doubt heard the expression, 'A floor so clean you could eat off of it.'
Our quality cleaning services in Jacksonville, Florida provide nothing short of this exceptional level of clean, leaving your home spotless after each and every visit. Since 2000, Jessie's has provided excellent cleaning services in Jacksonville, and our commitment to cleanliness starts with our dedicated personnel. With 20 years of cleaning experience, a large staff of maids and carpet cleaning technicians completing our roster, and 3,219+ satisfied customers (and growing!), we are confident that our home cleaning services are the best in Jacksonville's residential cleaning industry.
We're proud of our earned A+ rating with the Better Business Bureau and are a registered provider for housekeeping and cleaning services in Jacksonville communities. Whatever the size of your home, the severity of the cleaning required or the time you need it by, Jessie's House & Carpet Cleaning 1.877.CLEANING is up to the task! If you're looking for premium residential cleaning services in Jacksonville, Jessie's House & Carpet Cleaning 1.877.CLEANING brings superior value of cleanliness to your home with every visit.
Our Cleaning Services include:

House Cleaning Services Jacksonville FL:

When you have no time for your household cleaning and organizing, Jessie's House & Carpet Cleaning 1.877.CLEANING services could come to the rescue for you. Our expert team of professional cleaning maids will clean your home, creating for you time to relax in your spare time. Our house cleaning services include dusting the household items, wall wiping, mopping floors, ceiling fan cleaning, bathrooms cleaning, kitchen cleaning, laundry room cleaning, balcony cleaning, garage cleaning, patio cleaning, etc.
Office Cleaning Services Jacksonville FL:

Office cleaning and office building maintenance services are available from our trained commercial cleaning services department's staff. Each of our cleaning consultants is meticulously trained in our 20-year signature cleaning process. Let Jessie's provide you and your employees a clean and safe working environment. All of our cleaners are proficient and professional. So, they are perfectly equipped for any and all office cleaning services.
Carpet Cleaning Jacksonville FL:

Carpets and/or rugs cleaning is better performed by professionals with the adequate carpet cleaning equipment. Our carpet cleaning technicians have years of hands-on-experience in the process of carpet cleaning. Our cleaners use the hot water extraction and steam cleaning methods not just to remove the dirt from soiled carpets and rugs, but also because it destroys germs, mold, and bacteria and has a strong sanitizing effect on the fabrics. We clean, sanitize, deodorize, and disinfect carpets and rugs and provide an excellent cleaning end result.
Deep Cleaning Services Jacksonville FL:

What consists deep cleaning? Exhaustive cleaning is a systematic and profound cleaning of your property, furniture, floors, etc. It means not only lifting and removing dust, dirt, and grime but also sanitizing each area after it has been cleaned. Extensive cleaning involves reaching, cleaning, and sanitizing all areas including those areas that are not touched during the routine cleaning such as baseboards, window sills, ceiling fans, etc. We provide intensive cleaning services when you are moving in or moving out to a commercial or residential space. If you need deep cleaning services in Jacksonville, we are Jacksonville's trusted cleaning experts. We specialize in deep cleaning. Hiring our services to perform a deep cleaning of your property means you ensure your families and/or employees a clean and healthy living and/or working environment. Every property needs a deep cleaning service occasionally. We highly recommend a deep cleaning service at a minimum of once a year.
Mattress Cleaning in Jacksonville FL

In order to create a clean and healthy home environment, especially in the bedrooms, hiring a professional mattress cleaning company is extremely important. We spend a significant percentage (24% to 33%) of our time on our beds (6 to 8 hours) – making mattresses a hotbed for dust mites, bed bugs, bacteria and viruses. Professional mattress cleaning services entails using special equipment to vacuum, deep clean and sanitize the mattress from the inside and out.
If you are in need of a professional and reputable cleaning services company to perform mattress cleaning services in Jacksonville, Jessie's is the best!! Call us today 1.877.CLEANING for your free consultation.
House Cleaning Services in Jacksonville FL
If you want the best house cleaning service in Jacksonville or surrounding areas, then look no further than Jessie's. We've built a name for ourselves providing reliable, honest, and quality domestic cleaning services to homes in Jacksonville and Ponte Vedra Beach.
We provide several types of home cleaning services: One-time cleaning services, recurring cleaning services, partial home cleaning services, deep cleaning services, light cleaning services, etc. Our house cleaning services cater to all your domestic cleaning needs, with services including dusting, polishing, and vacuuming. We endeavor to provide you with a personal clean tailored to your home and at your convenience.
Our unique home cleaning service points of differentiation:
No contract required (however, contractual agreements offer better rates)
The agreed upon fee you pay will never increase during the life of your contract (if you sign a contract)
We care about our environment. We use only eco-friendly products as much as possible
Our maids have a vast number of years of experience in the cleaning industry
Most of our cleaning consultants have been with us for many years, our turnover rate is significantly lower than the industry's average
We offer dependable consistency: We provide the: same maids, same day, same time, every time! You also receive unlimited customer service support during the time you receive our services
We digitally coordinate the whole order flow process: from the time you make the appointment to the time we complete the cleaning service and leave your property
We keep you informed (email, text, and live phone customer service representatives) every step of the way, you have nothing to worry about
We offer the following house cleaning services:
General Cleaning
: We embark on wiping, dusting, vacuuming, moping of all rooms of the house. We do balcony cleaning, laundry room cleaning, bathroom cleaning, refrigerator cleaning, oven cleaning, cooking range cleaning, cleaning inside of the cabinets, cleaning kitchen counters, and home organizing. Usually our charges start from $37.50+7%/hr. per cleaning consultant (7% Supplies and equipment fee).
Mattress, Carpet, Upholstery Cleaning
: We are one of Jacksonville's top professional cleaning service providers specialized in carpet cleaning, rug cleaning, sofa cleaning, upholstery cleaning, mattress cleaning, etc. Our expert cleaning system for sofa cleaning will revitalize your upholstery and give it a fresh new appearance. We frequently use steam cleaning to fumigate the sofa to remove germs and bacteria.
Deep Cleaning
: We offer deep cleaning service for your home to remove dirt from hidden places, get rid of stains and thoroughly clean your appliances. We suggest a deep cleaning service at least once a year to make sure your home is bacteria free.
Whether you need a one-time or recurring weekly cleaning services or need some extra help to move in or move out of your property, Jessie's can provide suitable help. We are one of the best professional house cleaning companies in Jacksonville. Our cleaners and maids are reliable and hardworking. We offer same day service, subject to availability.
Deep Carpet Cleaning Services in Jacksonville FL

Deep carpet cleaning services are very effective and should be done fairly recurrently for many reasons. According to Jacksonville's weather condition, it's very easy to get bacteria and germs to your space and you may find yourself sneezing quite a bit. Our professional deep carpet cleaning services include hot water extraction steam cleaning to eliminate bacteria, germs, unpleasant odors, and stains from your carpet.
When you are moving in to another property, you might need deep carpet cleaning services to ensure cleanliness and a healthy living and breathing environment. At Jessie's were equipped to deliver professional deep carpet cleaning services for residential and commercial properties.
If you need deep carpet cleaning services in Jacksonville to freshen up your home or office, Jessie's House & Carpet Cleaning 1.877.CLEANING can help you. We can arrange for a team of professional carpet cleaning technicians to come to your property at a convenient day and time. Our deep carpet cleaning service is available to all Jacksonville and surrounding areas. For detailed information call 1.877.CLEANING to setup a complimentary consultation and schedule your deep carpet cleaning service appointment.
Move In and Move Out Cleaning Services in Jacksonville FL
If you are planning to move out from your home, town home, condo, apartment, or office space or perhaps you want a deep cleaning service before you move in or move out, we can offer complete house cleaning services and the ability to integrate other cleaning services. The cleaning service is executed by our team of professionals and our cleaning consultants are equipped with all the necessary chemicals, tools, and latest cleaning equipment to deliver a top-notch service.
Our move in cleaning service includes cleaning the entire property, including windows, appliances, garage, etc. We provide a complete kitchen cleaning including cabinets, kitchen wall and floors. Thoroughly clean and disinfect all the electronic appliances such as oven, refrigerator, washing machine, cooking range etc. Complete bedroom cleaning, floor cleaning, laundry room, bathtub cleaning, and more.
As a move out cleaning service, we provide a complete house cleaning service including kitchen cleaning, floor cleaning, and bathroom cleaning. Our cleaning services help you start a new life in a revitalized environment. We specialize in move in and move out cleaning services. We have the knowledge, experience, equipment, and cleaning supplies to deliver the best results. Call 1.877.CLEANING and book our cleaners and we even offer same day cleaning service (subject to availability). Let us take away the stress of cleaning from you. With our full range of move-in and move-out cleaning services, you will have less to worry about. We can even help you pack or unpack your belongings! We offer packing and unpacking services. Any furniture that needs to be cleaned will be handled with care by our staff. From the bedrooms to the kitchen to the living room, we will provide you thorough clean-up assistance. Enjoy a smooth, stress-free move when you hire Jessie's!
Large Homes and Mansions Cleaning Services in Jacksonville and Ponte Vedra Beach FL

Jessie's has teams of cleaning professionals, with substantial experience in cleaning large properties in Jacksonville, Ponte Vedra Beach, Queen's Harbour, and just about all the country clubs located in Northeast Florida. Our competent cleaning consultants make your cleaning tasks easy with our versatile cleaning solutions. Our cleaning experts use professional cleaning equipment to clean every corner of your home. We understand trust and steadfastness are the vital factors in this industry, our 20-year proven track record speaks volumes when it comes to delivering on our promises. Our aim is to achieve complete excellence in every cleaning service which we provide. We train our staff to work diligently and make sure your property is spotless within a reasonable time frame.
As the leading cleaning company in Jacksonville, we use advanced cleaning equipment for large properties. We offer multiple cleaning solutions and a diversity of cleaning services. Our cleaning systems are designed to reach the best results under the circumstances. Our staff members are specifically instructed to use harmless and eco-friendly products as much as possible. We do our best to make sure that our cleaning efforts are mostly natural. We try not use any chemical product which may be harmful to your children and/or pets. For this and many other reasons, we are ranked among the top cleaning companies in Jacksonville and surrounding areas.
We know that your property is your special possession; we work diligently with full dedication and make sure your home is crystal clean without any damage.
If you are looking for a top-notch mansion cleaning company in Jacksonville with 20 years of cleaning experience, then get in touch with us at 1.877.CLEANING. We have served quite a list of celebrities over the past two decades. From professional athletes, politicians, local celebrities, etc., Jessie's is the way to go, if you're looking for the best cleaning service available. We assure you high quality work and hard to find trust. Our company strives to provide a world class cleaning service throughout Jacksonville. Book our services any time and make your cleaning appointment hassle free and stay relaxed. Our online booking system is available 24/7 to assist you!!
Quality Maid Service Cleaning in Jacksonville FL

Choose a single maid or a team of two or more maids. We assign the team based on the magnitude and urgency of the job. With Jessie's, you have a choice of when you want your house cleaned. Appointments can start as early as 9:00 a.m. and as late as 3:00 p.m. Aside from special cleaning requests, all cleaning supplies and equipment are provided by us. You can also provide your own cleaning solutions and equipment if you prefer. Personalize your cleaning service by adding extra tasks or having only parts of your house cleaned. Our staff is professionally trained and very sensitive to your requests. Prices are prorated at a per hour rate for each maid on a per job basis. Payments can be made by Visa, Master Card, PayPal, checks, cash, email transfers and gift certificates.
Maids Services in Jacksonville FL

Why do 98% of our customers recommend Jessie's to family and friends for their cleaning services? Why do we have such a high customer retention rate? Why some of our customers have been with us for 15+ years? Because we deliver trust, quality, consistency, and reliability (T.Q.C.R.). Our cleaning teams are professionally trained and provide attention to all the details, that makes us the best choice. Jessie's residential cleaning service specializes in creating an immaculate living atmosphere. A clean environment is not only psychologically gratifying but also physically healthy.
From vacuuming with our commercial-grade vacuums with HEPA filtration to using environmentally preferred cleaning products whenever possible, our approach to cleaning is better for your family's health. That means less dust, allergens, and other air contaminants in every breath you and your family take.
If you have been looking for quality maid cleaning services for your home, we at Jessie's can provide you with the professional and thorough services you need. We offer a wide range of cleaning services, such as house cleaning, apartment cleaning, window washing, and move-in and move-out cleaning. You're busy enough as it is – save your time and energy by entrusting your cleaning needs to the best cleaning company available in Jacksonville!
Best Maid Services in Jacksonville FL:

Trying to decide which maid cleaning company in Jacksonville to hire for a helping hand around the house can be really difficult since there are just so many to choose from! It can also be nerve-wrecking to just make a decision without knowing much information about your selection, but don't worry! That's where we come in! Jessie's has a wide selection of cleaners and maids that offer the best Jacksonville cleaners and house maid services in Jacksonville. Whether you require a maid for your home or require full building cleaning or commercial cleaning services, we can help! You can think of Jessie's as a quick and same day service provider (subject to availability). At Jessie's website, you can browse through our online booking maid services and cleaners in Jacksonville, learn our prices, read genuine customer reviews, watch video testimonials, and get quotes without any charge. You will have all the information you need about maid services.
When it comes to trust, we are at the top of list. Jessie's maids have been with our firm for several years and we assure you, there is nothing to worry about. Therefore, we ensure you that our competent maids are well trained and professional. We guarantee your complete satisfaction and we deliver a stress-free house maid service. We assure you that every house maid who enters your space can be trusted.
Apartment Cleaning in Jacksonville FL
Jessie's offers excellence in apartment cleaning services and residential cleaning services in Jacksonville. We serve our customers with our professional cleaning skills and our outstanding customer service. Our professionally qualified team of cleaners are specialized in different cleaning services to keep your apartment neat and tidy. We at Jessie's House & Carpet Cleaning 1.877.CLEANING are here to make your life easier!!
Reliable, Professional Apartment Cleaning Services in Jacksonville FL
At Jessie's, our primary goal is quality of cleaning services and unparalleled customer satisfaction. We always provide 100% customer satisfaction and guarantee our services. Our maids and carpet cleaning technicians are English speaking so customers can interact with them easily. There is no communication gap or language barrier between our staff and customers. To support each on-the-field team, our office is available during business hours. Therefore, communication is no problem, we are equipped to meet customers' requirements and provide a hassle-free work order. Whether it's a one-time house cleaning service or regular recurring house cleaning services, we provide top quality end results. We also offer deep cleaning services for apartments, rental properties, residential spaces, offices etc.
Why should you hire Jessie's House & Carpet Cleaning for your apartment cleaning needs?
We are one of the top and most reliable cleaning services available in Jacksonville. We have been serving customers in Jacksonville since 2000, we've built a strong and distinguished credibility not easily duplicated by any of our Jacksonville cleaning service competitors. We've already helped thousands of people, with hundreds of them either writing great reviews on our social media profiles, providing pictures expressing their satisfaction with our services, and recording legitimate 100% satisfied customer video testimonials.
Become one of those happy Jacksonville cleaning services customers and let us make your apartment sparkle!
Post Construction Cleaning in Jacksonville FL

The construction cleaning service department is a specialized division of Jessie's providing a full range of cleaning services to the Jacksonville construction Industry. We provide building cleaning and post refurbishment cleaning to builders, architects, and individual properties alike, in all major areas across Jacksonville, Ponte Vedra Beach, and all Northeast Florida. From residential properties to hotels, retail centers, spas, shopping centers, business centers, restaurants and clubs, Jessie's is the best choice for construction cleaning services. We provide specialized cleaning and maintenance services including floor maintenance, sealing, buffing, tile and grout cleaning, external cleaning, high level deep cleaning, and much more.
Office Cleaning Services in Jacksonville FL

When Jessie's cleans your property, we assure your complete satisfaction. We customize our services according to the timely needs of your business. As a top office cleaning company in Jacksonville, Jessie's offers a neat and tidy office space cleaning services for all the small and commercial offices in Jacksonville. The perfect presentation and high cleaning standard of your office, can reflect top professionalism contributing to make a momentous difference in your business and brand. Make your office a truly pleasant workplace with Jessie's office cleaning services.
If you're not satisfied with your current office cleaning service, let our dedicated cleaning staff demonstrate the Jessie's cleaning difference. We offer a full range of office cleaning services, carpet cleaning, general cleaning, etc. We are here to help you maintain a clean and healthy office atmosphere that will improve productivity and reflect your commitment to high-quality service towards your clients.
Keep your work space clean with Jessie's House & Carpet Cleaning 1.877.CLEANING, serving Jacksonville and all Northeast Florida. Does your commercial or industrial space need janitorial services? Our Jacksonville Cleaning team can help. At Jessie's, we offer a wide range of cleaning services throughout the area.
Professional, Reliable office Cleaning Services include
:
Carpet Cleaning Jacksonville FL
Sofa & Upholstery Cleaning Jacksonville FL
Furniture or curtain cleaning Jacksonville FL
Floor Cleaning Jacksonville FL
Washroom cleaning Jacksonville FL
Hospital/Clinic Cleaning Jacksonville FL
School cleaning Jacksonville FL
Building cleaning Jacksonville FL
Nursery and learning center cleaning Jacksonville FL
Shopping mall and retail store cleaning Jacksonville FL
Construction cleaning Jacksonville FL

Why Jessie's for Office Cleaning:
Jessie's is one of the best office cleaning companies in Jacksonville:
We give you the competitive and best price for your quality cleaning requirements
Fully trained, professional staff for all your cleaning needs
Flexible with your company timings
Handle your company belongings and electronics including computers, phones, etc. with care
Special support for emergency situations
Special discounts for regular clients
100% Customer oriented services
Excellent guaranteed services
Commercial Cleaning Services in Jacksonville FL
Make your Jacksonville office or commercial space a truly great place to work. Give it that extra shine by hiring the best corporate housekeeping services in the Jacksonville and Ponte Vedra Beach market.
For a commercial space or office space, the cleaning services is the most important factor. A healthy environment can produce cheerful employees and impressed clients. Our cleaners are reliable, consistent, and fast to meet your daily cleaning needs. Let Jessie's professional cleaners, design your cleaning services to meet all your janitorial needs. We have a perfect support team in our back office. If you want any schedule change or cancellation, then you can feel free to contact our help desk team. We have a 24/7 support team. You can also have full control of the scheduling using our software.
As a top cleaning services company in Jacksonville, Jessie's offers a wide range of cleaning services for warehouses, schools, hospitals, shops, clinics, industrial cleaning and much more. Our services range from small offices up to large factory units. All of our staff are fully trained for all types of cleaning and maintenance services. Our personnel are equipped to clean top to bottom, undertaking carpet cleaning, buffing floors, using scrubber driers, and/or general office cleaning services.
Our commercial cleaning services are unique in nature, we go the extra mile to make sure your place is completely cleaned. We focus on quality, and yes quality does cost more than just an average job. Our cleaners are very hard workers and will attempt to restore your space to a spotless condition. No matter how big or small your office may be, all customers are our valued and treated equally and the end result will always be the same, complete satisfaction.
When you are seeking a trusted cleaning service in Jacksonville for your workplace, make sure to call Jessie's House & Carpet Cleaning 1.877.CLEANING, our crews will meet your business standards. Our qualified staff is specially trained to clean and maintain a professional environment during the cleaning process and can serve all of your cleaning needs.
Industrial/Warehouses in Jacksonville FL

Cleaning up an industrial building or a commercial warehouse is no easy job. It's all due to the fact that those kinds of premises collect much more dust and dirt over time, not mentioning all the mess that its storage functions may bring in. However, with our 20-year expertise in cleaning such areas, we're always glad to take on the job and deep clean buildings, such as:
Warehouses Jacksonville FL
Banks Jacksonville FL
Restaurant and Hotel kitchens Jacksonville FL
Construction cleaning Jacksonville FL
Rough, final cleaning, and touch ups Jacksonville FL
If you need the best cleaning service in Jacksonville and all Northeast Florida, one that: will show up, deliver on its promises, and assure 100% customer satisfaction, then call 1.877.CLEANING for a complimentary consultation. We would love to clean your property.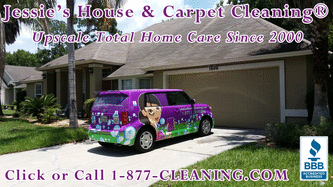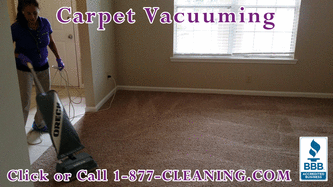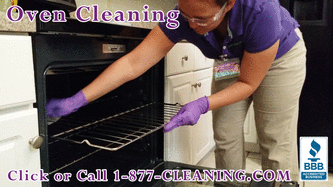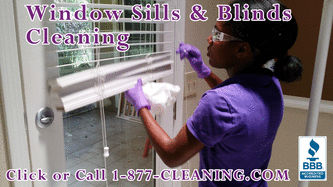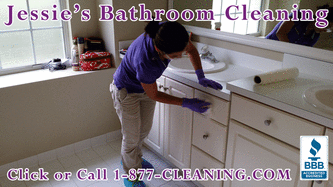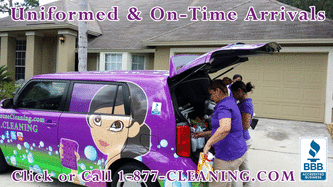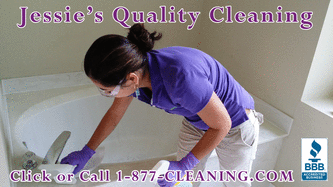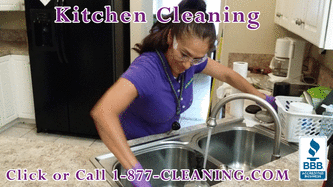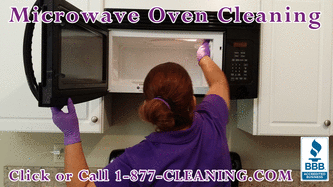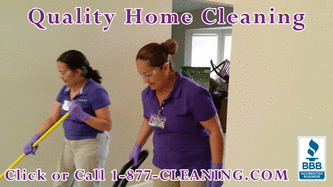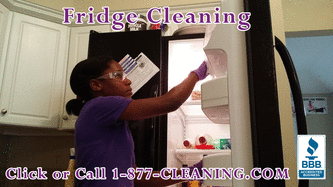 ​Trusted Cleaning Experts of Jacksonville Beach.
Satisfied Customer Video Testimonials

Customer 100% Satisfaction Pictures

Excellent House & Carpet Cleaning Reviews

Rated
4.9
/5 Stars.
Based On
Hundreds
Of:
Customer Reviews, Recommendations, Referrals, Pictures, & Video Testimonials.
Better Business Bureau A+ Rating.
20-Year Upscale Christian Cleaning Services.
Jacksonville's Top Notch Trusted House & Carpet Cleaning Services Experts.
---
---
Jessie's House & Carpet Cleaning 1.877.CLEANING
offers a variety of services in
Jacksonville, Florida

, including:
House Cleaning Services Department:

Deep & Light Cleaning Services

Whole House & Partial House Cleaning Services

Appliances, Fridge, & Oven Cleaning Services

Veranda, Porch, Lanai, Patio, & Garage Cleaning Services

One-Time, On-Call, & Recurring Cleaning Services

Move-In & Move-Out Cleaning Services

Retail, Office, & Commercial Cleaning Services

Last-Minute, Same-Day, & Emergency Cleaning Services – Subject To Availability

Carpet Cleaning Services Department:

Carpet Deep Steam Cleaning Services

Pet Odor Removal Services

Carpet Stretching Services

Upholstery Cleaning Services

Water Damage Restoration Services

Last-Minute, Same-Day, & Emergency Cleaning Services – Subject To Availability

Painting Services Department:

Interior/Exterior Painting Services

Whole or Partial Painting Services

Pressure Washing Services
---