Ponte Vedra Beach House Cleaning
Ponte Vedra Beach Maid Services
Marsh Landing | Ponte Vedra Beach, FL
Maid Services Ponte Vedra Beach FL, Maid Services Ponte Vedra Beach, Maid Services Ponte Vedra, Maid Services, Ponte Vedra Beach Maid Services, Ponte Vedra Maid Services, Maid Services, House Cleaning Ponte Vedra Beach FL, House Cleaning
​​20-Year Dedicated Professionally Trained Maids and Competent Carpet Cleaning Technicians in Jacksonville and Ponte Vedra Beach, Florida

We are a 20-year professional home cleaning services provider in Jacksonville and Ponte Vedra Beach, Florida dedicated to understanding all of your house management requirements, valuing your time and money, and delivering quality housekeeping, house cleaning, maid service, move-outs cleaning services, carpet cleaning, and other cleaning and organizing services. Being one of the best Jacksonville and Ponte Vedra Beach cleaning companies, we offer a full range of house management services that provide significant value to you. At Jessie's, we take every measure to ensure quality, consistency, professionalism, and reliability in everything we do concerning home cleaning services.

Our Jacksonville and Ponte Vedra Beach maid service department, gives you the flexibility you need to take care of all your housekeeping chores. We offer part-time and full-time maid services in Jacksonville and throughout Northeast Florida. Our position as the best provider of professional and reliable maid services for day to day and one-time cleaning services for your premises has a 20-year unblemished reputation. We have designed our teams of maids and carpet cleaning technicians in such a way that for your convenience, we could perform the two services on the same day. Many clients have indicated that providing multiple services on the same day may help them save time and money. This feature, like everything we do, was designed with clients needs in mind. We are focused on meeting our clients' expectations. We use all our resources to create a smooth and effortless experience. When hiring us to perform all of your home cleaning services, you can rest assured you are contracting the best cleaning service in Jacksonville and Ponte Vedra Beach, Florida.

Client Focused Maid Services in Jacksonville, Florida

We pride on being the best client-oriented and value housekeeping and cleaning company in Jacksonville and Ponte Vedra Beach. Our detailed cleaning services revolve around housekeeping and cleaning requirements of our clients to fully deliver solely on client specific instructions. At Jessie's, our Jacksonville and Ponte Vedra Beach teams of professional maids, housekeepers, and cleaners go through a thorough management and customer service training to sharpen their cleaning and people skills. As the leading Ponte Vedra Beach and Jacksonville's maid service provider, we offer a diverse array of cleaning and housekeeping solutions to take care of all your home services' needs, customized plans to meet your expectations and budget.

Detailed Cleaning Services Provider

Need your house cleaned by a team of professional cleaners? Jessie's is one of the best home cleaning services with a presence in Jacksonville and Ponte Vedra Beach. We are your trusted cleaning experts offering full range cleaning services. We have 20 years of residential experience cleaning small homes, large homes, and mansions. Our house cleaners and maids have substantial cleaning experience, significantly more than our competitors. Unlike our counterparts, we are career-oriented cleaning professionals committed exclusively to the cleaning industry. In every job we do, we defend our long-held position as the best cleaning service in Jacksonville and Ponte Vedra Beach.

Because Jessie's offers customized cleaning services and there is no contract or long-term obligation, you can book us from as little as one hour to one whole day and even as your permanent recurring cleaner as well. Our entire home cleaning service packages are tailored to clients' specific needs and designed to ensure your home is left clean and sparkling. From simple light cleaning to deep cleaning, we have covered the full range of home cleaning services such as cleaning bedrooms, cleaning mattresses, kitchen cleaning, bathrooms cleaning, carpet shampooing cleaning, steam cleaning, upholstery cleaning, etc.

Whole House Cleaning Services in Jacksonville FL

Based on our detailed cleaning rotation system, we ensure our clients' homes always meet our high-quality standard of cleanliness. We use a unique kind of detailed cleaning process to ensure that our clients are always satisfied with our cleaning service and expect a clean, sanitized, and deodorized beautiful environment each time. You can have peace of mind in choosing Jessie's as your next home cleaning service. We are competent cleaning professionals and take great pride in our craft and workmanship.

Housekeeping Service in Jacksonville FL

With our housekeeping services, we'll cover all the areas of your home, patio, garage, etc. We are one of the best local housekeeping and cleaning services providers in Jacksonville and Ponte Vedra Beach. And as such, we strive to keep clients fully satisfied with our services. Our full range of housekeeping services are featured to provide customized, personalized, cleaning services packages tailor-made to meet customers' needs and budget. Our professional staff is trained on a continual basis and background checked by Amazon Home Services to ensure your complete satisfaction and safety.

When you hire our housekeeping services, you will have the best cleaning services available in Jacksonville and Ponte Vedra Beach. We customize/personalize the housekeeping service experience for you to meet your specific needs and expectations. In addition to full range housekeeping services beyond the initial deep cleaning, our services are also available for recurring weekly, bi-weekly, monthly, quarterly, on-call basis, and one-time as well. The beauty of it is, you don't have to sign a contract.

We Make You Feel and Treat You Like Royalty!

Looking for professional housekeeping services in Jacksonville or Ponte Vedra Beach? You have found it! Jessie's is a housekeeping services provider with 20 years of experience and reputation for exceptional customer service and complete client satisfaction. We are the best because we stay ahead of the trends by having the most experienced staff, the best cleaning equipment and supplies, and an unparalleled passion for cleaning. All of our personnel are thrilled to be in the cleaning industry. At Jessie's we truly believe, you cannot give it 100%, if you have no love for your craft. In addition to this, we also believe keeping a happy staff is very important, which will lead to having the motivation to do great work and thereby make happy customers. Offering the best housekeeping services to ensure our clients are always pleased with our quality services has always been our objective.

Move-In Move-Out Cleaning Services: Trusted Expert Cleaning Service Providers in Jacksonville, FL

When moving in to a property or out of a property, a thorough deep cleaning is not only expected but by many lease agreements and/or contracts, in some cases, it is required. Finding a Jacksonville or Ponte Vedra Beach cleaning company that would clean to your standards could prove to be a challenge. Move in and out cleanings need special detailed attention because in these types of cleanings, a simple light cleaning is not enough. Jessie's offers the best deep move in and move out cleaning services in Jacksonville and Ponte Vedra Beach. We have the capability and necessary tools to fulfill the requirements of clients to make their premises sparkling clean and ready for use.

Our move in/out cleaning services includes a thorough cleaning of all rooms, cleaning of all kitchen cabinetry, kitchen appliances, laundry room, internal window washing, cleaning of doors and other wooden fixtures, wiping, dusting and vacuuming, carpet cleaning, pressure washing of entire home and paved areas, and much more.

Let Us Handle Your Transition During Your Move-Out and Move-In

If you are moving out of your house, office, apartment or any other living environment and need to get it clean, we are a 20-year, established professional cleaning company in Jacksonville ready to serve you. We are Ponte Vedra Beach and Jacksonville's preferred cleaning service and we will endeavor to satisfy customers at every level. Let Jessie's trusted cleaning experts, remove the burden of pre- and post- move cleaning. Contact us at 1.877.CLEANING or 904.716.0112 for a free consultation.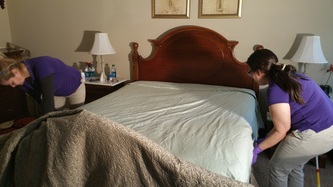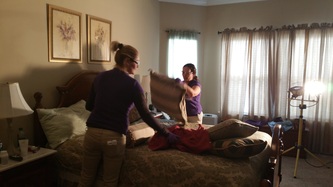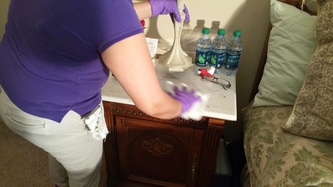 ​Trusted Cleaning Experts of Ponte Vedra Beach.
Satisfied Customer Video Testimonials

Customer 100% Satisfaction Pictures

Excellent House & Carpet Cleaning Reviews

Rated
4.9
/5 Stars.
Based On
Hundreds
Of:
Customer Reviews, Recommendations, Referrals, Pictures, & Video Testimonials.
Better Business Bureau A+ Rating.
20-Year Upscale Christian Cleaning Services.
Jacksonville's Top Notch Trusted House & Carpet Cleaning Services Experts.
---
---
Jessie's House & Carpet Cleaning 1.877.CLEANING
offers a variety of services in
Jacksonville, Florida

, including:
House Cleaning Services Department:

Deep & Light Cleaning Services

Whole House & Partial House Cleaning Services

Appliances, Fridge, & Oven Cleaning Services

Veranda, Porch, Lanai, Patio, & Garage Cleaning Services

One-Time, On-Call, & Recurring Cleaning Services

Move-In & Move-Out Cleaning Services

Retail, Office, & Commercial Cleaning Services

Last-Minute, Same-Day, & Emergency Cleaning Services – Subject To Availability

Carpet Cleaning Services Department:

Carpet Deep Steam Cleaning Services

Pet Odor Removal Services

Carpet Stretching Services

Upholstery Cleaning Services

Water Damage Restoration Services

Last-Minute, Same-Day, & Emergency Cleaning Services – Subject To Availability

Painting Services Department:

Interior/Exterior Painting Services

Whole or Partial Painting Services

Pressure Washing Services
---